Due to the impact of Covid-19, President Biden passed the American Rescue Plan Act (ARPA) on March 11, 2021. One of the proponents of ARPA was to lower monthly health insurance premiums. This was done by increasing the eligibility for health insurance subsidies.
Before ARPA was passed, fewer people qualified for savings on their monthly health insurance premiums. ARPA both allowed more people to qualify for savings and increased the amount of savings that people could qualify for.
Lower Health Insurance Premiums
The federal poverty level (FPL) was the measure that was used to determine if someone qualified for a subsidy. Before ARPA, individuals and families needed to fall within 100% and 400% of the FPL to qualify for assistance. As seen in the chart below, across the board, everyone saw their health insurance premiums decrease.
For example, for anyone under 135% of the FPL, ARPA made it possible for individuals to have a high-quality silver plan for $0/month. Further, for anyone between 150-200% of the FPL, their health insurance premiums were being decreased from 4.14%-6.52% of their income to 0%-2%. Across the board, everyone qualifies for lower health insurance premiums.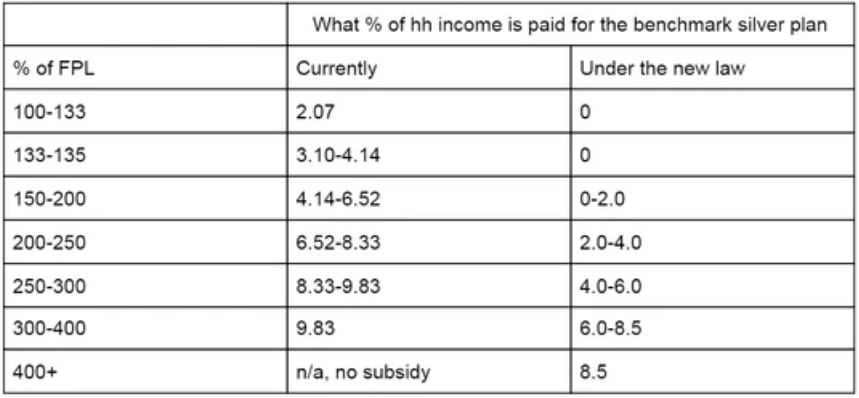 Removal of the Subsidy Cliff
Another benefit of ARPA, was doing away with what is commonly known as the subsidy cliff. A subsidy cliff was an income cut-off where people stopped receiving aid from the government. Since the qualifying income was between 100% and 400%, this created a problem for people who were around 400% of the FPL.
For example, for a family of 4, the 400% cut-off was $106,000 in annual adjusted gross income. If a family estimated that they would make $105,000 and received the savings on their health insurance throughout the year, but when they filed their taxes, they actually earned $107,000 – they could be on the hook for a massive payback and would be required to pay back 100% of the savings they received. It was not uncommon for families to have to pay back $10,000 or more if they went over the subsidy cliff.

However, President Biden's ARPA made it possible for people to qualify for subsidies even over 400% of the federal poverty level. Today, instead of focusing on a certain amount of income, the subsidy/savings will allow individuals and families to purchase a health insurance plan that will not pay more than 8.5% of their income. If someone chooses a bronze plan, then their monthly premiums will be even lower than 8.5% of their income. The following chart shows the previous, sharp cut-off in insurance premiums and how ARPA has gotten rid of the subsidy cliff.
Find Out If You Now Qualify for Savings
Now that you know what the American Rescue Plan is, it is also important to know that this bill is temporary and will be effective up to the end of 2022. Make sure to talk to your insurance agent if you have questions about whether you qualify for a subsidy or need to apply for government assistance. Because of the constant changes that occur in the insurance marketplace, we encourage citizens to work with an agent to receive professional guidance when purchasing health insurance. Our insurance agents keep you up to date about all the changes happening now and in the future.
We understand that enrolling in health care insurance sounds tedious but with the help of your agent, the process should be easy and all taken care of for you. Call Compass Insurance Advisors, to get free advice about your insurance needs, (801) 901-3519.